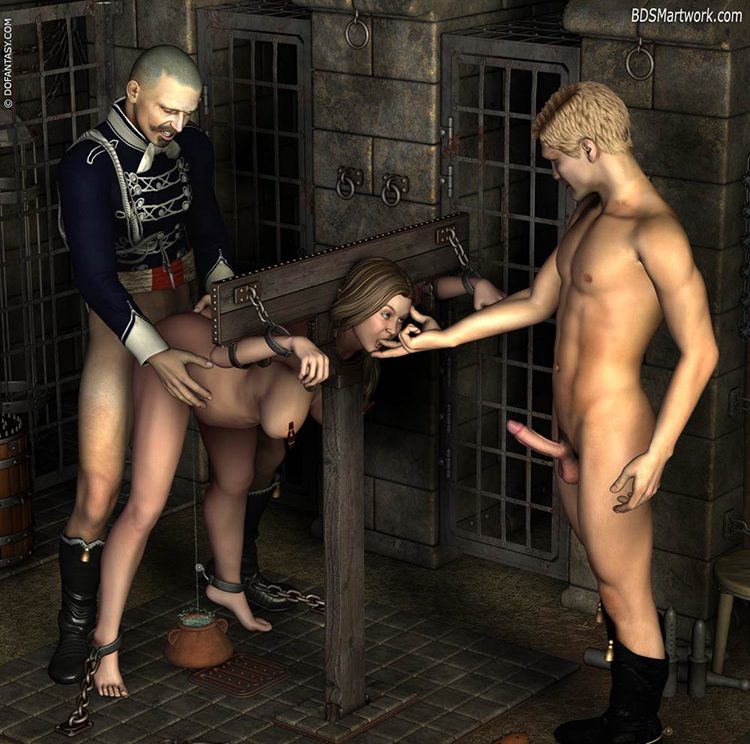 "Please, please, don't do this!" Maria sobbed.
She was locked in a stockade, her legs quivering as they struggled to keep her upright and her belly still distended from water, only now swollen and bruised from her earlier beating. Lorenzo was behind her, rubbing is cock between the soft pink folds of her pussy.
"I'm gonna fuck the rest of that water out of you." He said. "Pound that filthy, whoring hole of yours until you're cumming the water out!"
"Noooo!"
"And while I'm doing that, you're going to give my cousin Jose the best fucking blowjob you've ever had. Take his lordly lance in your mouth and coax his royal seed from his balls. And if you dare spill a drop, I'll have you back on that table and beat your belly until it bursts!"
And with that, Lorenzo slammed his cock into Maria's dry fuck tunnel with a single powerful thrust, burying his whole length inside her. His cock tore across her dry pussy walls like sandpaper and rammed into her cervix, driving the breath from her lungs.
"UUGGHHNNN! PLEEASSEE! PLEAASEEE SLOW DOWN!" Maria begged.