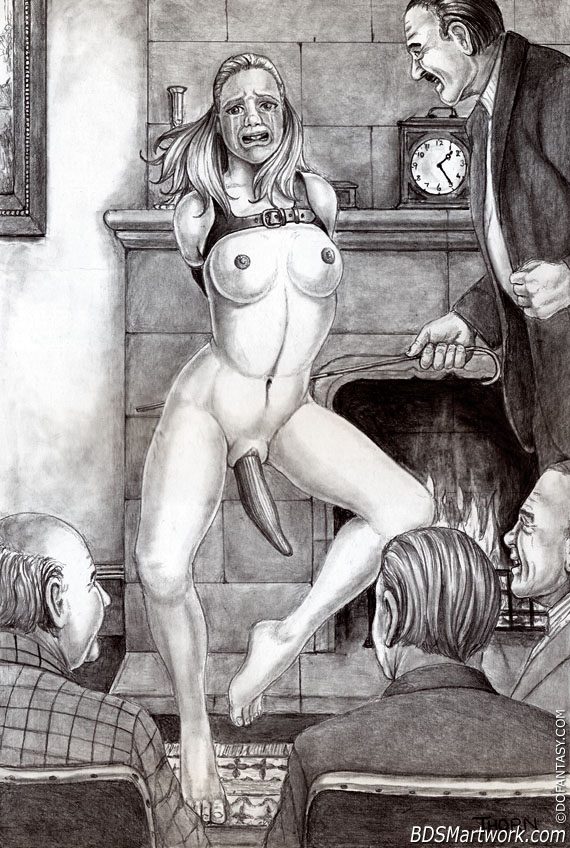 Susan has been old Bern's sexual plaything since her mother died but now he has decided to share her young charms with three close friends. It is a quiet Sunday afternoon and his gusts are expectant. First he makes her strip before them. Under the cane, of course… Then, he restrains her arms painfully behind her to render her helpless and to allow his friends unopposed access to her naked body.
Susan is a shy girl and her stepfather delights in humiliating her, so before getting down to fuck her, it is his intention that she is to be forced to shame herself thoroughly.
She is to put on a show for them and perform what her stepfather refers to as the "cucumber dance."
To the girl's dismay and mortification he inserts up into her tight cunt a huge cucumber whilst the three men watch with evident pleasure. The big vegetable is fat and she squirms as it is pushed up her, her discomfort obvious as it stretchers her open. Finally she stands before them crying, the cucumber jutting out obscenely from between her legs.
"Looks like the little slut's grown a big green cock" laughs one of the seated men; the others join in, mocking her.