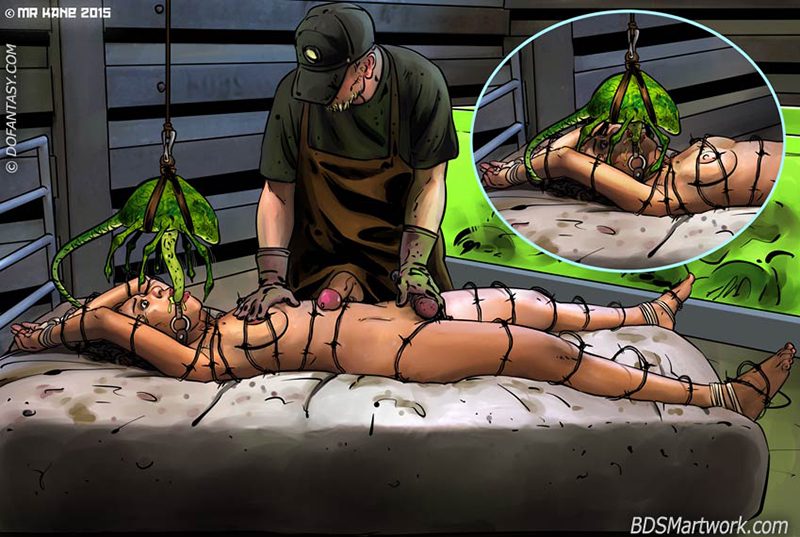 Crowen was assigned a dark-skinned woman who gave her name as Katia Scina. She was reasonably docile, and there was little need to punish her from the obedience point of view, but Crowen had his own motivation and he soon found that he enjoyed it. He got the habit of masturbating over her breasts while she was taking the long phallus of a pralus into her mouth. She was tied up in wire, which prevented her from moving too much. The blowjob got more fun for Crowen when the pralus got is penis all the way in, right up to the end, which was thicker and made it difficult for her to breathe…
Katia Scina was one of the rebels who had attacked Crowen's hunting party. He had no reason to be kind to her. He had lost his license as a result of the attack, men had been killed, and he had been sent to the Feminarium on M. 03 as punishment. He hated her, and that's why he was appointed her Personal Trainer.
Crowen decided early on to punish her as much as he could. He wanted to humiliate her and hurt her in all the most intimate parts of her body…
He took her to the pralus room every day. It was one of the most disgusting punishments on the asteroid. When the pralus was inside her, he flogged her or masturbated over her. If he had no more spunk left, he used a dildo. He tried never to let her have an orgasm…
Katia Scina had flashes of uncontrollable anger. "Why don't you just fuck, me, you bastard?" she shouted as the thick end of the phallus slid down her throat. "You can't, can you? You're impotent!"
Crowen said nothing. He picked up a cane and brought it down onto her open vulva.